In brief
– http://smartdesk.ethz.ch/ (ETH Zurich Login / SWITCHaai)
– Select Incident or Service Request
– If there are several affiliations with ETH, select the one to which the request refers
– Select a category
– Fill in subject
– Select subcategory, if applicable
– Fill in all form fields incl. description, upload attachments if necessary and submit
In details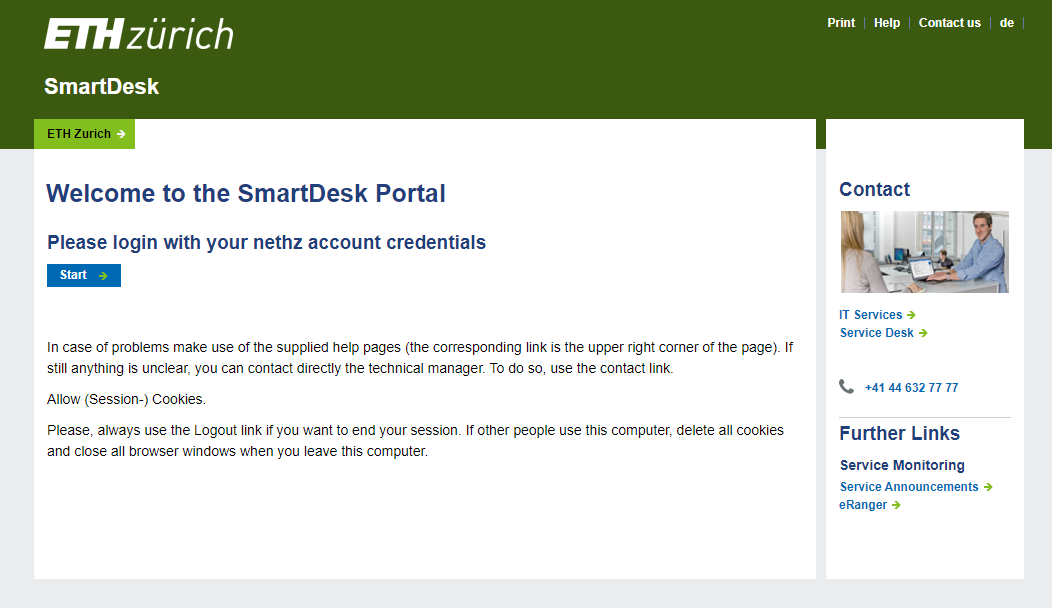 Click "Start"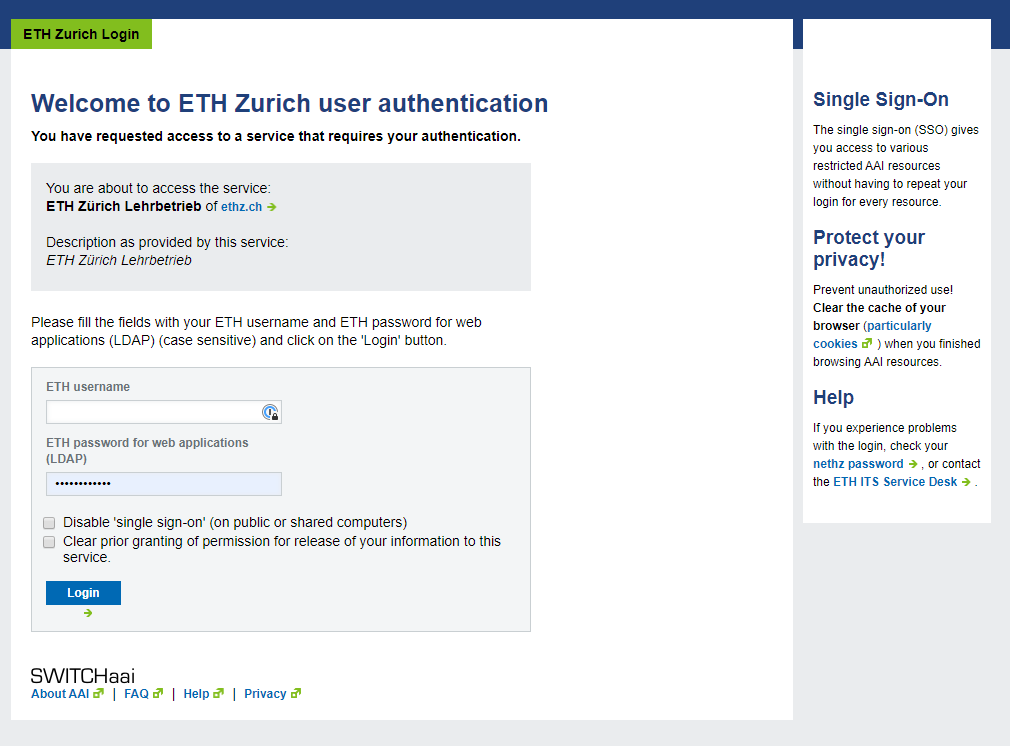 Enter your credentials

Select Incident or Service Request
Before a form can be selected, one must decide between "Incident" and "Service Request". The following text is offered as a decision aid:
Incident (ITIL)
An event which is not part of the standard operation of a service and which causes or may cause disruption to or a reduction in the quality of services and Customer productivity.
Service Request (ITIL)
A request from a User for information, or advice, or for a Standard Change or for Access to an IT Service. For example to reset a password, or to provide standard IT Services for a new User. Service Requests are usually handled by a Service Desk, and do not require an RFC to be submitted.
In short:
I have a problem -> incident
I want something -> service request
If there are several affiliations with ETH, select the one to which the request refers

Select a category
Not only D-GESS
The Smartdesk is not only a contact point for IT concerns and problems in D-GESS, but for all IT-related issues. You can create tickets for ETHIS, ETH Web /AEM, Finance, eDoz, etc.
Requests and problems in D-GESS
What I want to do
Ticket type
Category
Remark
Report problem
Incident
Other problem / Anderes Problem
Corresponds to the old standard form
Make Request
Service Request
Request / Anfrage
Corresponds to the old standard form
Equipment Loan
Service Request
Lending / Ausleihe
New form
Entry Employee
Service Request
Entry Guest (not HR) / Eintritt Gast (nicht HR)
Entry notification for a person who is not hired via a notification to HR
Entry Employee (HR) / Eintritt Mitarbeiter (HR)
Entrance notification for entry via HR, including guest professors and Erasmus program
Leaving Employee
Service Request
Leaving / Austritt
Notification for a person leaving the group, regardless of how they are employed and whether they leave ETH
Fill in subject
Enter your text, SmartDesk searches for keywords and attempts to match them against an internal database. If SmartDesk finds an entry that could match, it displays it on the right side of the input screen. The goal of this "artificial intelligence" is to be able to answer certain IT queries before opening a ticket, so that it is ultimately no longer necessary to create a ticket. The more employees use the new portal, the more "intelligent" the database or SmartDesk becomes. We ask for your understanding if these entries are not always correct when SmartDesk is launched. Over time, they should improve continuously.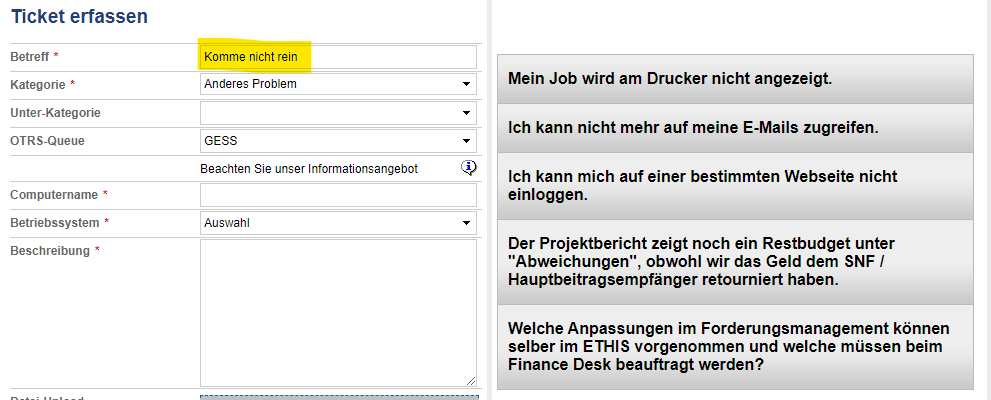 Select subcategory, if applicable
There are some Categores where you have to choose a sub-category to get a form.
Fill in all form fields incl. description, upload attachments if necessary and submit
Depending on the form that appears, various fields must be filled in. Please provide as much information as possible so that we can help quickly.