Our Apple devices (laptops and desktops) are delivered with a standard set of managed applications and customized automatically to fit in our IT environment. 
The current catalogue of common applications is listed below. Applications are deployed and maintained using a Client deployment system 
Software Standard Package
OS (10.15)
Adobe Reader
Adobe Creative Cloud
Cisco VPN
Dropbox
ETH Printers
Firefox
Flash Player
Google Chrome
Microsoft Edge
Microsoft Remote Desktop
MS Teams
Office 2016
Polybox
Skype
Sophos
VLC
Self Service 
We provide a self-service app store which gives you the ability to install apps, update software and maintain your device without a help desk ticket. 
The ETH Self Service doesn't need an VPN Connection anymore, it will work worldwide.
You can find the ETH self service in your applications:

In the ETH self service you can find applications on demand and scripts. You can start them by clicking on "install" below the application.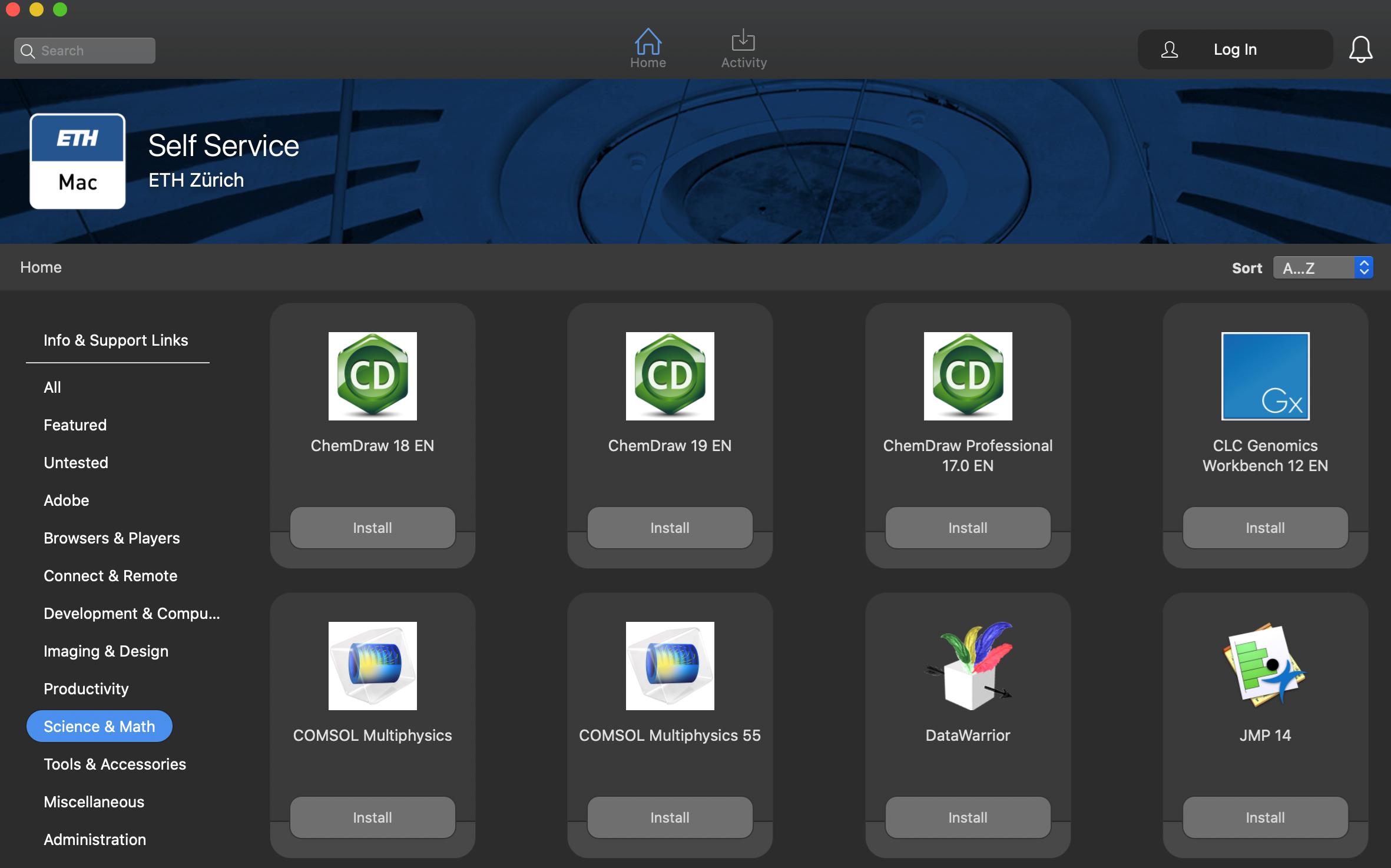 Application Updates
Some applications will automatically perform the update, they use the implemented update function. These applicatinons are Google Chrome and Sophos.
We have a lot of software that does the update in the background. This affects the following list of applications:
 
Adobe Acrobat Reader DC
Adobe Flash Player
Dropbox
ETH Printers
Firefox
Polybox
Skype
VLC
Zoom Client
If you get a message, that you have to update Zoom and you can't do it, just close this Application > reopen and the application should be updated.
All other applications can be updated with the ETH Self Service.
Please check the "Updates" category regularly. If you see an application in that section just click on Update and the application should be updated and dissappear from the Updates section.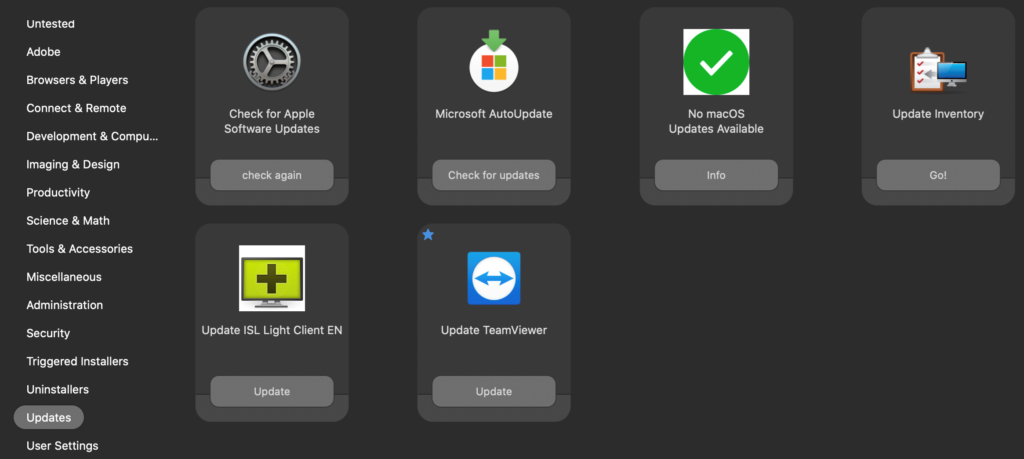 Microsoft Application Updates
All Microsoft related applications can be updated with the integrated Microsoft Auto Update function.
All new versions that we provide with this function has been tested .

Click on Update all or just click manually on the application that you want to update.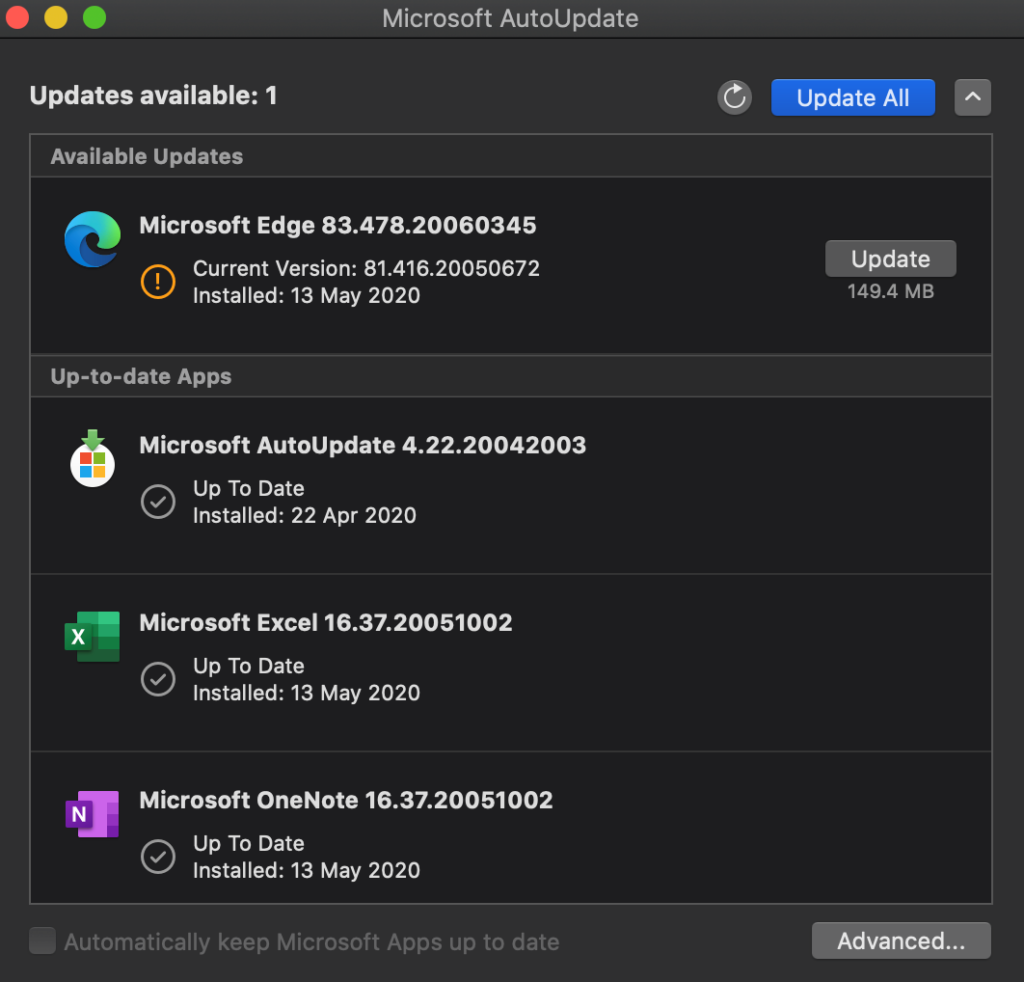 OS Updates and Upgrades
Soon we will provide more information how macOS updates and upgrades can be installed.
We will also provide a Basic Setup for iOS devices like iPhones and iPads.